📰 Sushi July Recap
All of the major milestones of this month summarized in one post!
Date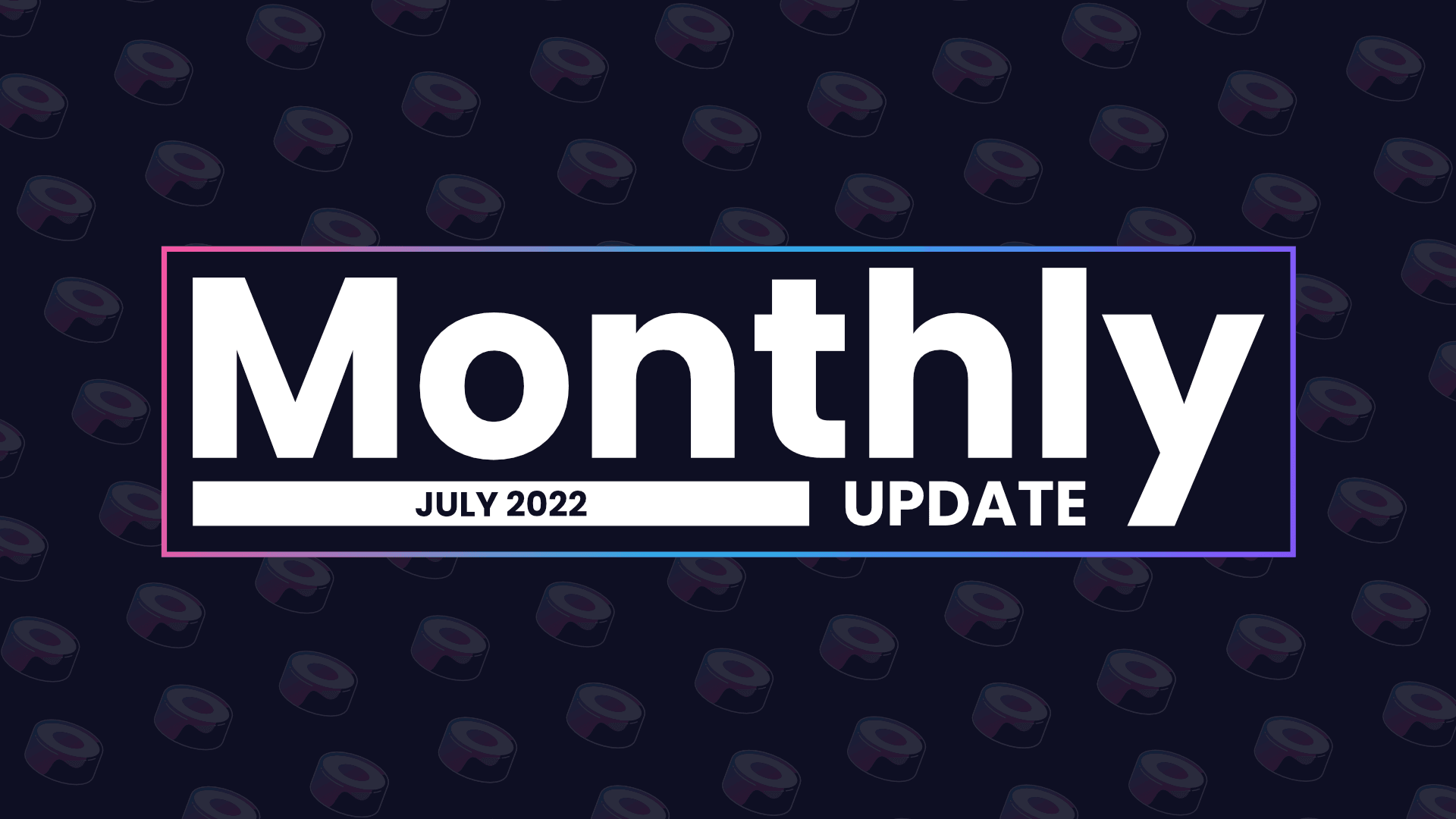 Welcome to the Sushi monthly recap! 🗞
This post will outline some of the major operational, technical, and community milestones reached in the past month. We've summarized all articles and announcements as well as some of the exciting things to come — as laid out in the Sushi roadmap. Without further ado, let's dive into the highlights:

🍣 SushiXSwap is live! At EthCC we announced the launch of the first ever crosschain swap AMM built on LayerZero's Stargate, launching on the following chains: Ethereum, Arbitrum, Optimism, Fantom, Avalanche, Binance and Polygon.
💰 Start trading now at https://sushi.com/swap.
📺 Rewatch a demo walkthrough here.
📖 Read more about SushiXSwap here.
--
🍱 Building on BentoBox 
Bentobox is a smart contract acting as the central vault for the entire Sushi ecosystem. In simple terms, Bentobox is like an Operating System powering your phone and Sushi's products such as Trident, Limit Order, or Kashi https://app.sushi.com/kashi are deemed as applications. 
📺 Rewatch how to build on BentoBox here.
💻 You can find the slides here.
---

👨🏻‍🍳 Sushi Head Chef Nomination As the team has been busy cooking up Sushi 2.0, we started the search for a new head chef and are nominating Jonathan Howard as Sushi's new Head Chef.
💬 There's a lot of discussion ongoing and we'd love your input. Jonathan is currently actively engaging and addressing others' thoughts and concerns. To be continued! 📃 Read about him & details of the proposal here.
--
🇫🇷 Sushi in EthCC Paris From 19th — 21st of July a delegation of the Sushi team travelled all the way to Paris to attend the EthCC conference to represent Sushi. EthCC (The Ethereum Community Conference) is the largest annual European Ethereum event focused on technology and community. 
📝 We've collected a recap of the highlights for you here.
—
💡 For all governance news & forum recaps please visit the Sushi Samurai-led Toshokan Blog.
🔥 All proposals & snapshot updates in one place The most recent proposal & snapshot updates will now be updated and tracked here.
---

🌳 Green Sushi on the menu for all - We're the first major DEX to reduce carbon footprint! Together with KlimaDao we believe we can help offset carbon emissions, change the narrative that crypto is bad for the environment & move the needle on climate change 🟢
--
🌿 Sushi launches on Metis
We deployed Trident AMM and Bentobox farming on Metis Smart L2!
--
♨️ Onsen news
Start farming to earn $METIS yield at https://app.sushi.com/farm?chainId=1088
$ZED / $wETH pools and :trident: Trident swaps launched on Polygon
--
📊 Sushi Community Analytics
---
If you have any other questions please hop into the Sushi Discord so one of our Samurais can assist you: click to join Discord. See you next month! 👋
Sushi is building a comprehensive DeFi ecosystem with AMM, leverage & margin trading platform, token launchpad and NFT artist platform. Follow our socials to keep up with our product launches and find out more on how you can make the most of your cryptocurrency assets with Sushi's secure and powerful DeFi tools!
Exchange & XSwap | Kashi | MISO | Docs | Discord | Twitter | Telegram | YouTube | Tutorial | Github